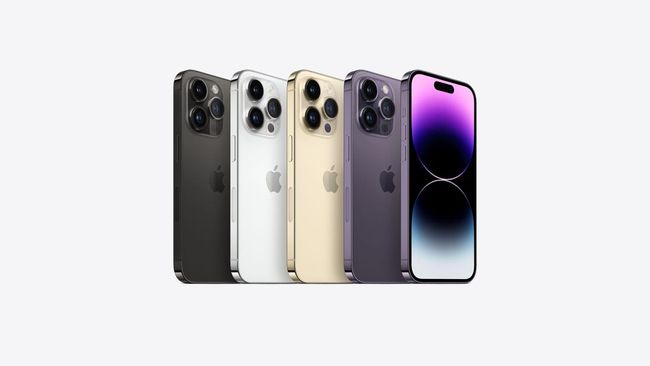 Along with the times, all HP brands in the world are always improving the technology embedded in their products. Therefore, gadget enthusiasts must also feel this development by looking at the latest HP specifications that have tantalizing innovations.
Whether it's in terms of camera, connectivity, battery, memory capacity, to the operating system, all standard specifications have also undergone a transformation to become the HP you see today: modern, comfortable, fast, and up to date.
The following is a series of cellphones that are currently trending in the world:
1. Apple iPhone 14 Pro Max
The iPhone 14 Pro Max is the highest variant of the newest iPhone series, namely the iPhone 14 Series. The iPhone 14 Pro Max certainly has it all with the upgrades it goes through. This cellphone is equipped with Apple's latest chipset, the Apple A16 Bionic, which has faster performance. This chipset is designed with a new manufacturing process, namely 4 nm and is claimed to be faster than the previous generation.
One of the most innovative features made by Apple lies in the bangs or notch on the front. The notch on the front of the iPhone 14 Pro Max is called Dynamic Island. This feature was made not only to disguise the presence of the face scanner and front camera sensors, but was made livelier as the name suggests, namely Dynamic or dynamic.
2. Samsung Galaxy S23 Ultra 5G
The Samsung Galaxy S23 Ultra comes with a built-in S Pen, IP68 certification, a capable camera, and also a fast SoC or chipset. The SoC used on this cellphone is Snapdragon 8 Gen 2 for Galaxy.
Basically, the Snapdragon 8 Gen 2 for Galaxy is an overclocked Snapdragon 8 Gen 2 on its super cores. Therefore, Snapdragon 8 Gen 2 for Galaxy has a slightly higher capacity when compared to Snapdragon 8 Gen 2 on other cellphones.
3. Xiaomi 13 Pro
The Xiaomi 13 Pro comes with the support of a camera lens from a well-known company from Germany, namely Leica. With this support, of course the resulting images are of high quality. For its own resolution, this cellphone is equipped with a triple camera with a resolution of 50 MP. The main camera is slightly larger, namely 50.3 MP (f/1.9) with Dual Pixel PDAF, laser AF, and of course OIS.
Not only the main camera, there are ultrawide and telephoto cameras with the same resolution of 50 MP. This telephoto camera is suitable for those of you who like to take pictures from a distance. This is because this camera is supported by PDAF which is capable of 3.2x optical zoom.
4. Vivo X90 Pro+
Vivo X90 Pro Plus is here to steal a lot of attention. The reason is, this cellphone is the first cellphone to use the latest chipset from Qualcomm, namely Snapdragon 8 Gen 2. The performance produced by this cellphone is of course very good. Moreover, combined with a RAM capacity of 12GB and 256GB and 512GB of internal storage. Although there is no special slot for microSD, the capacity is large enough so that it is not a problem.
vivo X90 Pro Plus doesn't only rely on performance, the camera it has is also very good. This cellphone is equipped with four main cameras, each of which has a high resolution.